Mens Wallets
Which kind will you choose as a gift for him?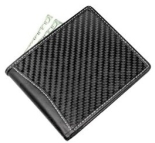 Shopping for mens wallets? They come in a variety of styles, materials, and brands. How will you choose the best one to give him as a gift?
Most people start with either the style or the material.
Wallet Styles
For example, you know that the guy receiving this wallet hates sitting on a fat wallet. You might want to get him one designed for the front pocket, that easily fits into his pocket without looking bulky. A money clip wallet is an example of a style that fits into the front pocket.
Which style does he prefer?
Bifold
Trifold
Chain wallets
Front pocket
Wallet Materials
Does the man you are buying for like to get interesting things? Some of these materials turn an ordinary wallet into an unusual gift idea. Consider a duct tape or stingray wallet. They are both very interesting choices.
Here are some of the materials available.
Cow leather
Lamb leather
Ostrich leather
Alligator
Steel
Wallet Brands
Some people have a brand preference for wallets. If the guy you are buying for is in love with a particular brand, take a look at what's available in the brand he likes.
Tumi
Harley Davidson
Rolfs
The Vegan Collection
With a little bit of thinking - and some help from us - you'll find the right wallet for him.