Mens Toiletry Bag
Hanging toiletry bag or Dopp kit? You decide.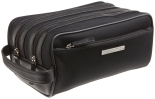 A mens toiletry bag is essential for the modern man. If a guy ever travels, he needs something to hold his toiletries. And if he's thinking of using a plastic grocery bag or a garbage bag, it's up to you to save him from himself.
Generally speaking, toiletry bags can be divided into two categories - bags that can be hung up and bags that can't.
The first kind of bag is a hanging toiletry bag. It can be hung over a door, on a doorknob, or even in a closet. This is great for a few reasons.
It's off the sink, so it shouldn't get wet.
It frees up space on the sink.
It has a number of see-through compartments, making it easy to find what you're looking for.
It can be used every day, not just when traveling.
To travel with it, just zip it up and go.
The second kind of toiletry bag is a Dopp kit. It isn't designed to be hung up, so it sits on the sink. Because it can get wet, a leather Dopp kit is a good choice. Leather is naturally water resistant.
Non-leather travel toiletry bags are Dopp kits made from other materials, like synthetic leather, nylon or vinyl. Some of these materials are better than others at keeping the stuff inside the bag dry, or from leaking out in case of a rupture during a flight.
This type of gift is a very personal one. Read the additional information on each page to make sure you are well informed before you make a decision.