Best Electric Shaver
Mens electric shavers - Braun, Norelco and others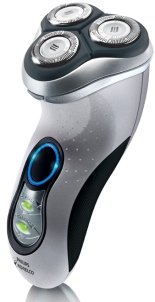 We went looking for the best electric shaver. We read product descriptions of mens electric shavers, reviews from satisfied and disgruntled customers, and did some general research.
Know what we found? The choice of a "best electric razor" is a personal choice, and there is no clear winner.
But we do have some great information for you, and a short list of the best electric shavers on the market. So read on.
Mens Electric Shavers - How to Choose
The first question to ask yourself is, "What's his skin like?" Does he have
Normal skin?
Sensitive skin?
Bumpy skin?
Acne?
If he has skin issues, keep those in mind when looking for an electric shaver.
Next, we look at a few key properties of the razors themselves. There are two key choices that are especially important.
Wet/dry shavers vs. dry shavers
Foil shavers vs. rotary shavers
With a wet/dry shaver, the shaver can be used on wet skin or dry skin. The electric shaver is cleaned by rinsing it with running water. A dry shaver is only used on dry skin - contact with water can cause electrocution.
A foil shaver is a shaver with 1-2 heads, with blades covered by foils. A rotary shaver typically has 3 floating heads that rotate and pivot according to the contours of the face. Some people prefer a foil shaver, others prefer a rotary shaver.
I can tell you from personal experience that when a foil begins to fail, it can have sharp edges that stick up. I've cut myself on foil shavers before. Since I started using a rotary shaver, I've never cut myself with my electric shaver. This is the main reason for my personal preference of a rotary shaver over a foil shaver.
Our Top Five Razor Brands
We narrowed down the selection to 5 popular choices of electric shavers for men. They are listed here alphabetically.
Braun: A Braun electric shaver is an excellent foil shaver. Braun do not offer a rotary shaver. We have several products featured on our Braun page.
Norelco (now Philips Norelco): A Norelco electric razor is a great choice for an excellent rotary shaver. They offer a foil shaver, but only as a body groomer.
Panasonic: A Panasonic electric shaver is an excellent foil shaver. We feature several of their electric shavers on our page.
Remington: Remington has both foil shavers and rotary shavers. We only found two Remington electric razors that are rated highly enough for us to feature.
Wahl: A Wahl shaver is a great foil shaver for sensitive skin. Wahl shavers are dry only.
Back from Best Electric Shaver to My Gift Ideas for Men home