Want Easy Gift Ideas for Guys?
Welcome to the Gift Files!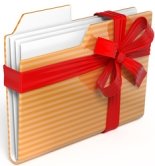 Looking for easy gift ideas for guys? They don't get any easier than just asking someone what they want. Unfortunately for you, that's not always practical. It kinda spoils the surprise, doesn't it?
We're here to help. That's why we're making it easy on you. The Gift Files brings you profiles of real people. Each profile shares inside information about that person, like his age and what kind of work he does. But you'll also see his hobbies and interests, and some of his favorite things from a variety of categories.
The profiles are sorted on this page from youngest to oldest. Hopefully there's someone here who is similar to the man you are buying a gift for. But if not...
Why not ask him share his profile with us?
What's in it for him?
He'll be "slightly famous". How many people can say they appear on a commercial web site? Only first name and last initial are used on his page, to help protect his privacy.
He'll also be able to add his Amazon wish list to his page. As long as he keeps his wish list updated on Amazon.com, the changes will be reflected on his page here on our web site. Anyone wanting to buy a gift for him can just bookmark his page and visit it often.
By sharing his information, he'll be helping many people buy gifts for men like him. He's sure to help thousands of people get - and give - better gifts. Isn't that great?
If you or someone you know would like to share with us, please contact us. We'll send you a template that will help you get started.
And now we present...
Back from Easy Gift Ideas for Guys to My Gift Ideas for Men home