Easy Gift Ideas for Guys Who Love Beer, Food, & Movies
The Gift Files - Dave S.

Introduction: Do you want easy gift ideas for guys who love beer, food and watching movies? You're in the right place.
In this installment of the Gift Files, we have compiled a profile on Dave S. - the brains behind this web site. Dave took some time away from writing about gifts to, well, write about gifts some more...
Disclaimers: All information was obtained voluntarily from the subject. Do not drive while reading this profile. Use only as directed. Side effects from finding the perfect gift include uncontrollable giddiness and high fives.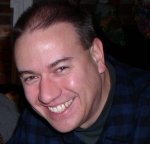 Dave S.
Last Known Location
Near Nashville, TN
Aliases
Dad, Big Daddy, Honey, Sweetie
Locations Frequented
Grocery store, couch, refrigerator
Spouse
Laura - aka "Babe"
Hobbies / Interests
Traveling, reading, watching movies, walking, hiking, spending time with family
Favorite Foods: I love all kinds of food. For lunch or dinner meals, I love pizza, barbecue, burgers, fries, steaks, Italian, Greek, Asian, and Mexican. I'm also a Reuben sandwich connoisseur - I feel compelled to try the Reuben at every restaurant I visit.
For breakfast, I love pancakes, waffles, French toast, omelets, fruit, and oatmeal. The best breakfast I ever had: banana pancakes with toasted coconut, topped with butter and real maple syrup. Yum!
Food Gift Ideas: There are some foods I love to eat, but hardly ever buy for myself. These are easy gift ideas for me. I like chocolate gifts
, including dark chocolate
, chocolate covered pretzels
, chocolate covered coffee beans
, peppermint bark
, and chocolate covered raisins
.
I grill food often during the summer. I like to try new marinades
and sauces
. Sometimes I need a new set of grill tools
. I like to use grill accessories
that make it easier or more fun to cook food on the grill.
Favorite Drinks: I love beer, especially darker beers. If you're buying beer for me, you probably can't go wrong with a stout, porter, or lager. Stay away from the pale ale, please.
I also love wine - especially a warming merlot on a cold evening. My favorites include merlot, shiraz, and chardonnay.
Speaking of wine, do you live in or plan to visit Lake Leelanau, Michigan? If so, do yourself a favor and stop by Bel Lago Vineyard and Winery. I've tried many of their wines and found them all delicious. But I especially love their cherry wine. It's made from tart cherries grown locally in Northern Michigan. I love it because it's so different and interesting. Unfortunately, they don't ship wine outside of Michigan. Sigh.
Coffee is an easy gift idea. I drink coffee every day, and prefer dark roasts and flavored coffees like hazelnut coffee
and French vanilla coffee
. I also like the occasional hot chocolate
with lots of marshmallows. I usually drink diet sodas, but sometimes I like tea or chai
.
Favorite Movies: Movies on DVD or Blu-Ray are another easy gift idea. I love to watch movies. I don't collect movies because I usually prefer to watch something I haven't already seen. But some guys do collect movies, so I'll tell you some of my favorites.
My favorite action movies are the Bourne Trilogy
. They are a great blend of both action and suspense.
I like science fiction, including the Star Wars
series. All 6 movies are great. One of the coolest ideas ever for a movie is The Matrix
. The first one was great. I didn't like the other two as much, but there are plenty of people who do. And who could forget The Terminator
? Again, the first one is my favorite... but I did love the liquid metal effect in the second movie.
Whenever Jaws
comes on TV, I always stop to watch it. It just sucks me in! And it has so many memorable quotes like, "We're gonna need a bigger boat".
Favorite TV Shows: The best TV show I have ever seen is Dexter
. It's about a serial killer who has a code of ethics, and only kills other killers. Creepy, right? Other shows I really enjoy watching include The Sopranos
, Weeds
, and True Blood
.
Favorite Music: For me, music is a mood enhancer. When I'm working, I like to listen to cool stuff that won't distract me. I find Norah Jones
, Jack Johnson
and Colbie Caillat
very relaxing. I also like Portishead
and Depeche Mode
.
When I work out, I like music that keeps me pumped up. I listen to Black Eyed Peas
and Rage Against the Machine
.
Favorite Books: I only read non-fiction stuff related to business, marketing, communication, and computers. Most people aren't interested in the stuff I read.
Favorite Magazines: I don't have time to read a lot of magazines. I subscribe to Consumer Reports
, and occasionally will get a subscription to something else for a while. I enjoy reading travel magazines
when I have the time.
Favorite Games: I love playing games with my family. We play a lot of Uno
when the little kids are around. When we only have the grown ups and bigger kids, we play Apples to Apples
, Pictionary
, and Outburst
. A great outside game we love to play is bocce
.
The Ultimate Easy Gift Idea: I buy so much stuff from Amazon.com, why not get me an Amazon gift card
? It's the ultimate easy gift idea! You can buy them in any amount. You can also choose if you want to print it yourself (so you can put it inside a birthday card), email it, or get a card in the mail. These are great for anyone looking for a last minute gift idea. You can't go wrong with this one.
Wish List: Finally, if you're looking for easy gift ideas for me, here's my Amazon wish list. I promise to keep it updated.
Back to Easy Gift Ideas for Guys