60th Birthday Gift Ideas
60th Birthday Gifts He'll Love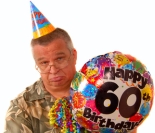 For 60th birthday gift ideas, I believe it is important to start considering gifts that are not just "things".
The 60 year old man might be preparing for retirement. If he is an empty nester, moving to a smaller house might be on the horizon. There's no need to add to his collection of things that he may not have space for in the future.
Some people reach the age of sixty before others.
Lord Hood
Consider gifts for him that are:
small
consumable
digital
experiences
Consumable items are things that he will use up. A bottle of wine, a fruit gift basket
, or some chocolates
are all things that will only be around a short while. If he is a golfer, he'll need new golf balls
and tees - especially if he hits the ball like some guys I know. Don't forget about clothing. Personally, I love to receive shirts and sweaters as gifts. My wife has great taste and always picks out nice ones for me.
Digital items include songs for his MP3 player, or e-books for his Amazon Kindle. If he doesn't have an MP3 player or Amazon Kindle, maybe you should get him one - but only if he's reasonably tech savvy. You don't want to give him something he will never use, or even worse, suddenly becoming his tech support person!
Another great digital idea is a digital picture frame
. It's a nice way to enjoy years of pictures without pulling out heavy photo albums.
Experiences include dining out, getting a massage, or going to the movies.
Did you know that most men are quite happy to spend time with their families? So gather the family and have a fun day together.
Tell him I said "Happy Birthday"!
Back from 60th Birthday Gift Ideas to Birthday Gift Ideas for Men
Back from 60th Birthday Gift Ideas to My Gift Ideas for Men home