50th Birthday Gift Ideas
Find a fun 50th birthday present for him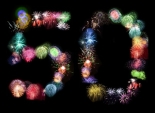 Here are my 50th birthday gift ideas for your favorite 50 year old.
I think by age 50, a man has acquired everything that he really needs. Presents for the 50 year old man should be fun things that he wants, but probably doesn't really need.
You know what makes a great 50th birthday present? Buy him something he'll love, but would never buy for himself.
The years between fifty and seventy are the hardest. You are always being asked to do things, and yet you are not decrepit enough to turn them down.
T.S. Eliot
This is especially true for guys who are very practical. One of my favorite gifts ever was a very expensive sweater. I would never have purchased it for myself because I couldn't justify the price to myself. My wife gave it to me as a present one year, and I loved it.
After wearing it a few times I realized that higher price was justified. Not only was it soft and warm, it was a very high quality sweater. It kept its shape, didn't pill or fade, and looked great for many years.
Fun 50th Birthday Gift Ideas
There are some things guys would love to have, but won't buy for themselves. Getting a gift like that is a very enjoyable surprise. Here are a few ideas.
Practical Male Birthday Gift Ideas
Do you really want some practical ideas? Here are a few.
If he likes popcorn, a popcorn tin filled with delicious flavored popcorn is usually a hit.
If he plays golf, he always needs more golf balls - especially if he plays like some of the guys I know.
Also related to golf, he could always use another golf shirt.
Buy him his favorite wine, beer or liquor from a local store.
Take him out for dinner. Most men prefer to spend time with their family.
You could get him a book, music CD, or a movie DVD. But if you're not sure what to get him, buy an Amazon gift card. You can get it for any amount, and even print it right now.
NOTE: For more good ideas, check out this page on Amanda Dion's site: www.50th-birthday-party-ideas.com/50th-birthday-gift-ideas.html. Her website is all about "The Big 5-0", so you may find it useful.
I hope he enjoys his gift. Tell him I said "Happy Birthday"!
Back from 50th Birthday Gift Ideas to Birthday Gift Ideas for Men