30th Birthday Gift Ideas
Birthday gifts for men in their prime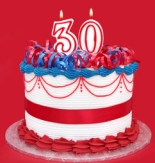 My 30th birthday gift ideas for men reflect what this time means in his life. I found this great quotation about what it means to be 30.
The only time you really live fully is from thirty to sixty. The young are slaves to dreams; the old servants of regrets. Only the middle-aged have all their five senses in the keeping of their wits.
Hervey Allen
When I remember what my life was like at 30, I remember that I...
was engaged to my wonderful wife
worked in an office at a job I loved
was planning to buy a house
exercised by walking, running and lifting weights
enjoyed spending time with friends and family
had big plans for the future
So with those thoughts in mind, here are my ideas for 30th birthday gifts for men.
Get Some Exercise
There are some items that guys can use any time of the year for exercise. These include:
If he's got a summer birthday, choose things for working out in the summer.
If his birthday is in the winter, choose things for working out in the winter.
Look Great at the Office
You may not want to pick out clothes for him. I understand. Here are some ideas for accessories that can help him look good at the office.
A nice watch. Watch prices range from a few dollars to more than $10,000. Quality brands that usually offer affordable choices include Invicta, Skagen, and Seiko. For the step above these, choose brands like Bulova, ESQ, Tissot, and TAG Heuer.
If he carries things back and forth to work, a briefcase could make a great gift.
Of course, a mens wallet is always a nice gift.
I'd stay way from buying socks, dress shoes, or pants for a man, because style and fit can vary so much. You're pretty safe with buying a watch, briefcase or wallet.
Grills and Grilling Accessories
Cooking food on a grill is such a manly thing. I love to grill burgers and hot dogs, steaks, chicken, pork chops, and even veggies.
If he doesn't already have a grill, get one! That would make a great 30th birthday present. If his birthday is in the summer or fall, get one from your local Lowe's or Home Depot. You can get some good deals if you buy at the end of the season, but the selection is not as good.
Regardless of whether he has a charcoal or gas grill, here are some great accessories to make the grilling experience more pleasant. They are great 30th birthday gift ideas.
I hope he enjoys his gift. Tell him I said "Happy Birthday"!
Back from 30th Birthday Gift Ideas to Birthday Gift Ideas for Men
Back from 30th Birthday Gift Ideas to My Gift Ideas for Men home