18th Birthday Gift Ideas
Birthday gifts for men who need everything.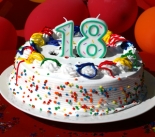 Before we look at 18th birthday gift ideas for guys, let's think about what it's like to turn 18.
What's it like to turn 18? You are legally an adult (scary, huh?). You have the right to vote. You can join the armed forces. You're about to graduate from high school. You might be going off to college, or moving out of the house to get your own place.
The world is suddenly very different. All of these changes in his life create new needs for him. So thinking of great gift ideas should be easy.
Cool stuff for men
Every guy likes cool birthday presents. Here are two that appeal to most young men.
Cologne. Guys like to smell good. Help him out with some mens cologne.
Magazine subscriptions - get him one for his favorite hobby. Magazines about mens health, sports, or mens fashion are all good choices.
If he's moving out
Here are some practical 18th birthday presents for him, if he is moving out of the house.
Worldly Knowledge
You know how people say, "If I only knew then what I know now..."? Help him out! Expose him to a new world of ideas. Here's a list of books that could really benefit him - if he reads them!
Physical Fitness
Stay in shape without going to the gym, or taking up a bunch of space in your house or apartment. Nothing beats a kettlebell
! But you can't just buy one and start working out, you need a kettlebell book
or a kettlebell DVD
to get you started.
If you want to save even more space, just get a great book on bodyweight exercises
. Your own body provides all the resistance you need to get into fantastic shape.
Back from 18th Birthday Gift Ideas to Birthday Gift Ideas for Men
Back from 18th Birthday Gift Ideas to My Gift Ideas for Men home